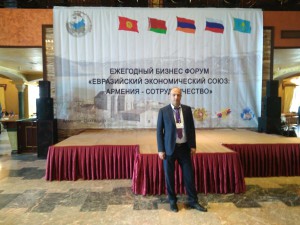 "Eurasian Economic Union: Armenia – Cooperation" in Tsaghkadzor
The government of the Republic of Armenia in collaboration with governments of the EAEU countries and EEC organized annual business forum "Eurasian Economic Union: Armenia – Cooperation" in Tsakhkadzor from May 26 until May 29.
The main theme of the forum was the discussion of EAEU export potential. A number of meetings took place which was attended by the EAEU representatives and representatives of the Armenian governmental agencies. Attorney Vardan Khechyan also participated in the forum.
The forum was organized by the Chamber of Industry and Commerce of Armenia, Russia, Kyrgyzstan and Belarus as well as by the "Atameken" National Entrepreneur Chamber of Kazakhstan and "Eventcenter" company. The Deputy Minister of the Ministry of Economic Development and Investment of the RA, EEC countries' ministers, ambassadors, chairmen of chambers, including more than 100 overseas guests participated in the work of the forum.
The main objectives of the forum are establishing collaboration between the EAEU companies, strengthening new business connections, expanding the range of business activity, discussing the most important goals with the representatives of the Government as well as increasing the level of EAEU export.
30.05.2017