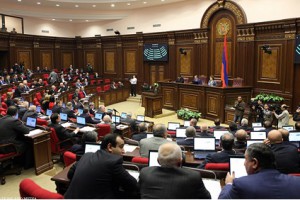 National Assembly adopted the new Tax Code on third reading
The National Assembly of the Republic of Armenia adopted the new Tax Code. The Code was adopted by 79 votes in favor of 19 votes against, with no abstentions.  
Some deputies deemed the adopted Code inadmissible. Particularly Hrant Bagratyan stated that there were inconsistencies with the provisions of the Constitution of the Republic of Armenia. Mikael Melkumyan said that the adoption of the new Code would worsen the conditions for business. In his turn, Levon Zurabyan also said that their party was going to vote against the Draft Tax Code. Khachatur Kokobelyan proposed to delay voting and make all necessary changes.
The part of the Tax Code will enter into force next year, the basic part – from 2018, and provisions regulating the field of agriculture will become binding in 2025.
10.04.2016