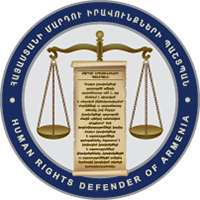 Ombudsman proposes to provide benefits to military personnel and their families
The package of projects developed by the Office of the Ombudsman on providing benefits to servicemen and their families has been sent to the Standing Committee of the National Assembly on Defense and Security and sectoral committees, as well as to the Defense Ministry. The Ombudsman's office reports about it.
Justifications for the adoption of the drafts are also attached to the package.
The package of drafts is sent to the above-mentioned institutions, taking into account that the Government and the bodies of the National Assembly have just been formed.
Among the privileges granted by the RA Human Rights Defender, for example:
The right to preferential employment.
The compulsory order of leave without pay
The privilege of choosing when to take annual leave
Preferential right to be included in public employment programs, etc.
Adoption of the benefits elaborated by the Office of the Ombudsman for servicemen of other armed forces, as well as members of their families, will be of great social importance and will contribute to the growth of the prestige of military service. The proposed benefits would also enhance the status of service members who are serving or retiring.
The real beneficiaries could be various categories of military personnel or members of their families, including:
(a) contract servicemembers, noncommissioned officers, officers, enlisted personnel, or members of their families;
b) combat participants ;
c) servicemen who became disabled during the defense of the Republic of Armenia, members of their families who died
d) the persons who have participated or are participating in military actions for the defense of other countries or their family members on the basis of mutual military assistance agreements with the RA or the state defense authorized body, etc.
The package of projects becomes even more important, especially in the post-war period, when ensuring, strengthening and protecting the rights of servicemen and their families is a priority.
Military service should be valued in all respects, and the proposed benefits will make military service more attractive to servicemen and their families.
It should be noted that a special report based on relevant international experience was published on the results of the projects in 2021.