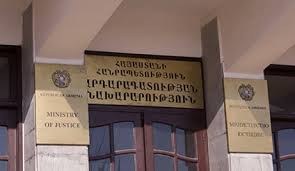 Mediation Qualifying Courses will be held
Under the chairmanship of the Deputy Minister of Justice, Acting Minister Arsen Mkrtchyan, today in the Ministry of Justice held the first meeting of the Mediation Qualifying Commission. The personnel of the Commission was established and approved in accordance with the decree of the Minister of Justice. The Commission consists of Deputy Minister of Justice of the Republic of Armenia Arsen Mkrtchyan, judge of the Cassation Court Suren Antonyan, former chairman of the Court of the Common Jurisdiction of Kentron and Nork Marash Communities of Yerevan Zhora Vardanyan, Head of the Department of Civil Law of YSU Vahram Avetisyan, teacher of ASPU named after K. Abovyan Vahram Kosakyan Abovyan, the Director of "ADR Partners" LLC, mediator and arbitrator Mushegh Manukyan, as well as the assistant of the Deputy Minister of Justice of Armenia Ani Baghdasaryan.
At this meeting, members discussed a number of issues related to the organization of mediation qualifying courses, approved the contents of the application and the size of the payment for participation in the qualifying courses. The applicants may participate in the qualifying courses if they are capable persons who have reached the age of 25 and who has a bachelor's degree or who is a certified specialist, has no criminal record for an intentionally committed crime. The deadline for submission of documents is on the 29 of July at 16:00.  Mediation qualifying courses will begin on the 11 of August in the building of the Ministry of Justice.
17.07.2015