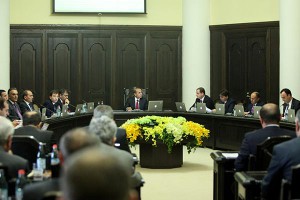 Government Approves Tax Code Draft
The Government of the Republic of Armenia approved the Tax Code draft at the session on March 31, 2016. According to the Deputy President of State Revenue Committee Vakhtang Mirumyan, after lengthy discussions the draft has been finalized on the grounds of pre-established principles and the document is supposed to ensure long-term economic growth without focusing on short-term results.
According to him, after the new Tax Code of the RA is adopted, not only exporters will be able to return the amount of VAT they paid to suppliers, but also business entities which have made large investments in Armenian economy. That is, value-added tax will be refunded within 6 months. When importing production equipment and some other types of raw materials, the value-added tax will not be paid to the customs bodies within 10 days of the importation. In accordance with the procedure established by the draft, the tax must be paid to the tax bodies until the 20th day of the month following the month the goods were imported.   
The draft focused on the business entities carrying out activity on processing and export. They will be exempt from the value-added tax. Mirumyan stated that this point will enter into force before the adoption of the Tax Code draft. The next principle is conditioned by the importance of stabilization of budget revenues in both mid-term and long-term periods and the main focus here is excise taxes. It is assumed to revise excise tax rates on tobacco, vodka and several types of fuel.
01.04.2016