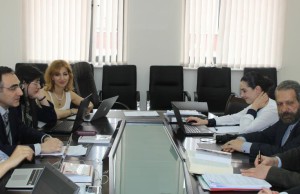 Debates over Draft Law on Amendments to Civil Code of Armenia Held
On April 28 the Draft Law on "Changes and Amendments to Civil Code of Armenia" has been considered in the Ministry of Justice. The debate was arranged with the support of "German Corporation for International Cooperation" (GIZ). The First Deputy Minister of Justice Arsen Mkrtchyan, the head of the "Legal approximation towards the European legal standards in the South Caucasus" Thomas Meyer, professor and expert of GIZ Rolf Knipper, the lecturer of YSU Chair of Civil Law Liparit Melikjanyan and other representatives of the Ministry of Justice took part at the meeting. 
In the course of the debate, the German partners introduced the experience of Germany connected to the modernization of the scope being considered, on the basis of which a number of changes and amendments to Civil Code has been introduced to the draft law. Thus the articles of the Draft Law concerning the limited right of use of property (servitude) have been supplemented, concepts of voluntary and compulsory servitude as well as their legal regulation has been clarified and so on.    
Official Website of the Ministry of Justice of Armenia
29.04.2016